"Let the winds of fate guide you and the storms of anger crush your enemies.. "
Personal Information
NICKNAME(S):
Divine Wind Kyuzu, The Man with Crimson Eyes (When Seen)
AGE:
25
GENDER:
Male
BLOOD TYPE:
O  
VILLAGE:
Wanderer
VILLAGE RANK:
Wanderer
SKILL RANK:
A
EXTRAS:
Blazing red Hair, Green eyes
Appearance Information
HEIGHT:
 5'9"
WEIGHT:
 180 Lbs
HAIR COLOR:
Crimson Red
EYE COLOR:
Green
MEASUREMENTS:
N/a ( want to know the size of my d*** meet IC )
LOOKS IMAGE: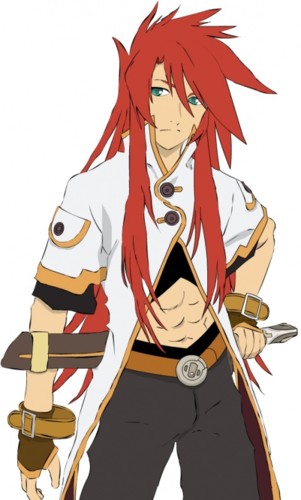 LOOKS DESCRIPTION:
Azayma is always seen with a black half cut shirt which shows of his perfectly sculpted abs and an open white jacket that slopes down his sides. His hair stands out the most, being as bright as a fire despite his moniker and status. His eyes are a gentle green color, but as to obtained the Man with the Crimson eyes remains to be seen. He also wears brown fingerless gloves and black pants, but when seen he is often covered in a long black cloak that reveals his green eyes and red hair.
Personality Information
PERSONALITY INFORMATION:
Kyuzuro is a wild current waiting to blow across the world. He is always optimistic in nature and a happy individual, eager to help any who need his assistance. When around kids or children in general, he will sit and play music to them, of course not showing his face, but giving them something beautiful to listen to. In any case Kyuzuro is just a simple breeze. Not really having any other emotions, he usually will keep quiet or speak in riddles to either confuse or make them leave him alone. Never one to complain or make a fuss, Kyuzuro generally is the one to quell any and all altercations that arise around him, usually being called a negotiator by many who would see him actually work.  
LIKES:
• Peace
• Harmony
• The Wind
• Cherry Blossoms
DISLIKES:
• Destruction
• Illogical Morals
• Dandelions
CATCH PHRASE(S):
Fighting: Allow me to show you what a gentle breeze can do.
• Traveling: where will the wind take me today
• Random: Did you know that I wrestled a bear…it became my pet shortly after.
NINDO:
By the winds breeze and the skies wisdom, all who slay for no reason shall perish.
Equipment Information
NAME:
Wind Sheer
TYPE:
Blade
APPEARANCE:
(A picture or brief description of the object.)
RANK:
S
SPECIAL ABILITY:
The Wind Sheer is a blade created to function for exactly what  Kyuzuro needs. The ability of the blade when using chakra allows him to control the pressure and currents of the wind, allowing him to make blades of wind every time he swings it through the air. Each blade is a meter in length and width, a max of thirty can be made and their range being twenty meters. The damage of the blades are equal to a jutsu of B rank status.
ORIGIN:
Made by Kyuzuro
SIMPLE EQUIPMENT:
• X 10 explosive tags
• X 5 10 meter Wire
• X 20 Shuriken
• X 2 scrolls
Combat Information
CLAN:
Uchiha
JUTSU SPECIALTIES:

Main:
Ninjutsu
Sub:
Fuuinjutsu
Kenjutsu
ELEMENTAL AFFINITY(S):

Main: Wind
Sub: Fire, Water
SPECIAL CHARACTERISTICS:
Wind God: Due to his enhanced mastery of wind, Kyuzuro can make large gusts of wind without using too much of his chakra, and by also using the same wind currents he can mask his presence.  With this all Wind Jutsu that he would use, the amount of chakra that they take is reduced by one whole rank. It takes a minimum of a D ranks amount of chakra to maintain the control of the wind.
Extreme Speed/Wind Blades: Using his Wind Manipulation, he can increase his speed by twenty percent, almost reaching body flicker speed. This can only last for three posts, but enables him to speed past his enemies. When running, due to his increased speed, he makes blades off wind shoot from his body in a three meter distance everywhere around him. It requires a minimal amount of D ranked chakra to manipulate the wind on this level.
Large Chakra Pool: Kyuzuro has spent ten years working on a way to increase his chakra pool and he had finally succeeded in doing so without the need of being in a village. Now he has a Chakra pool that is larger than an ANBU, but lower than a Kage.
FLAWS/WEAKNESSES:
Manipulation of Elements: Kyuzuro gave up the ability to use higher forms of jutsu and due to this he can only use up to C rank of each of his respective elements Except for Wind.
Are ya Mad??: Kyuzuro is unable to get mad even if his loved ones are killed in front of him due to a vow he made with his brother. In the event that he would become angry, he would become enraged and attack any and every one until his rage was quelled or killed.
Insomnia is for winners: Kyuzuro constantly suffers from insomnia due to him constantly traveling. Because of this he is always suffering from a constant 30% decrease of his natural speed and stamina.
Jutsu Information
Academy Jutsu:
Fuuinjutsu Techniques:
Spoiler:
Water Jutsu:
Spoiler:
Fire Technique's
Spoiler:
Wind Ninjutsu:
Spoiler:
History Information
HISTORY
Born Originally in Raiugakure, Kyuzuro was born into a family of Uchiha. His features were nothing like his families so from a young age he was believed to be adopted. From the ages of five to ten, he grew up like a normal kid, training to be a ninja while playing around, but Kyuzuro was just like the wind, always moving around no matter the situation. He never attended the Academy for the fact that he himself believed that one had to train himself to become stronger. He spent his childhood studying amongst the wild and studying a different variety of chakra. Through learning by experience and through trial and error, Kyuzuro had easily surpassed most of the kids his age.  He and his brother were the closest and even went on to train with each other. One day they made a pact to never get angry or mad for any reason, but the right reason.
For three years of his life, Kyuzuro and his brother left from the village to further their training by staying in a forest far from their village with only the provisions they needed and each other. Testing their limits they would hunt and live off of the wild, training their bodies and mind. After the third year, the two boys returned to their home to show what they had learned to not only their parents but their peers. Kyuzuro decided to challenge one of the kids who had just became chuunin to show that self taught skill and determination can overcome the training that went on in the village. The chuunin scoffed at what he said, but decided to fight him anyways thinking he could be him withing 30 seconds. A minute and a half passed and the chuunin boy was on the ground beaten by one who had none of the villages training. Though many of his peers saw him as a threat, was simply doing what he felt was right for him which finally showed him that his place was not in the village.
As time went on, he would come to find that he did not like the way the villages were ran and thus decided to leave. Although his family was against it, he packed his bags at eighteen and left from the village to never return.  As time went on Kyuzuro was spotted amongst the lands, although for some reason he had a reward on his head for leaving, but no one could ever catch up to him to actually claim it. One day he had finally decided to return to Raiu to visit his mother and father, but found the village to be utterly and completely destroyed.  Walking amongst the rubble he would remember his promise and sigh as he stood where he house would have been. Now that his home was a wasteland, Kyuzuro decided to travel the world to find who did this and bring them to justice. He now travels around as a bard, his face always kept hidden from view of anyone that may be looking for him.  
Miscellaneous Information
RP SAMPLE
Not required for a genin.
OTHER DETAILS:
None
FACE CLAIM
Tales of the Abyss
-
Luke Fon Fabe
as
Azayma Kyuzuro
ROLE PLAYER'S NAME
Kyu
PASSWORD
ADMIN CHECKED[/b][/b]